This is the post about the stuff that wedding bloggers would have been blogging about for the entire year before the wedding. And not that there's anything wrong with that, but reading the wedding blogs and Offbeat Bride and such just made me super-squirmy, which is why you poor voyeurs didn't get any details ahead of time.
I'm posting this now because I don't like the event-planny, but I do like the get-crafty--and I want to tell you that if you have even a
wee
vision for the look/feel of your celebration, you boast a budgety DIY spirit, and you're not a control freak, you can get everything done in under two months. Really. I do believe that venue and catering are the only things you really need to do well in advance, unless neither of those things is important to you.
So here's how it went down.
I started with this palette that I made on
colourlovers:
I was actually just playing around on the site, not trying to design my color concept or anything, but I liked it so much that I kept coming back to it when I was thinking about what I might wear. In reality everything that ended up fitting this palette was more muted or a little off, but that was fine. This was just a starting point. Conveniently, these colors are also trendy, which means that when I went to IKEA to buy napkins for the reception, I could get all of these colors.
Then I looked at ONE MILLION dresses online and in stores, and it sucked. But I did find an aggregator with an interface I really like, and that's
shopstyle.com.
The front page might make you go blech unless you really really love shopping and fashion, but once you get into the search function, it's pretty useful for knowing what's available in stores. I found this site after I had already abandoned the idea of scoring a good vintage/thrift/consignment type dress--I had been everywhere and looked at
everything,
including some truly horrifying 1997-style websites, in pursuit of that awesome patterned magenta evening gown from the 70s (or whatever), and it just wasn't happening. More on that later.
Most of the so-called vision for the event was mine, but I did want to honor things that the Brit and I both like, so I came up with a loose aesthetic theme called Art Nouveau Hippie, based on the fact that we have this poster in our living room:
It's not like the poster is somehow emblematic of our life together, but it does encapsulate an aesthetic that we can both get behind. The "hippie" part of the moniker describes the kind of lackadaisical/DIY/reuse stuff approach to designing our celebration. It's also aspirational, i.e., we could both stand to chill out some more and buy less stuff.
However, I did have to buy some things, like this book. I needed clip art for the gocco portion of the design adventure:
The images in this book aren't scalable, unless you want to go smaller, but the book is cheap as hell and there are loads of good graphics on the cd. The book also allows you to kick it old school with the photocopier, if you prefer to get your graphics that way. The software I have for images/publications isn't really intended for graphic design, and I don't REALLY know what I'm doing anyway. But I always forge ahead! Whee! So I ended up using a combination of computer layout, old-fashioned cutting and pasting (of paper), and drawing to get the invitation graphic to work at the size I needed. Then I despaired while wrangling the gocco, which is not really worth writing about because it was so irritating and identical to other people's issues with gocco. But! I did manage to crank out invitations, envelopes with our address printed on them, reply cards, and thank you cards on the gocco. Naturally, the thank you card process, which I did after the wedding, went perfectly and took about an hour from start to finish. Not so with the more deadline dependent stuff (i.e. invitations).
(command central for the printing process)
I got all the papergoods at
Paper Source,
which I highly recommend if you have one in town. (I'm not sure about ordering paper online.) They have beautiful colors, like chartreuse and curry, which I used. The online swatches of these colors look a little barfy, but I assure you they are not. Another paper related thing: I punched a billion 1.5 inch circles out of paper--new and saved and scraps, including paper that I ruined in the gocco printing process and reply cards that came back with no pithy message. Then I sewed them into garlands. People on Etsy will charge you good money for paper garlands, which is totally cool if you don't want to make them, but if you have patience and a sewing machine and a rainy Saturday (um, and a paper punch) you can totally do this yourself. You could cut out the circles by hand, but I don't recommend it; a paper punch is $12 at any craft store. Punch out circles, feed into the sewing machine one at a time either right next to each other or leaving space between them. You can use a regular stitch for this, though you should switch out your needle afterward because paper will dull it. Done.
I also made a
Martha Stewart craft
while watching reruns or movies. Tissue paper pom poms deliver a lot of bang for the buck, IMO. Hilariously, her company sells a kit for you to make these at home, with the tissue precut and folded. Ridiculous. You just need tissue paper, wire, scissors, and the ability to fold and cut stuff--all of which come very cheap.
Hanging all of the decorations at our venue was kind of a chore because I wasn't totally sure how it was going to work, and there was only one ladder. We also had four people directing the hanging with only the one ladder, which was really a misuse of personnel. But it all worked out fine, which should maybe be the main message for anyone's wedding. I put my FIL and SMIL to work punching a bunch of extra circles to use as table decor, sort of like oversized confetti. And then we ended up cutting the long paper garlands into short (1-2 foot) garlands, and draping them across a clear line that the Brit strung from the ceiling. Then the pompoms got dangled with some paper lanterns (unlit) in various places around the hall. Then I think I failed to take any pictures that really captured how the room looked, but I liked it. It looked good.
Other decor stuff: I bought lots of olive green glass vases at thrift stores. You know the ones--they're at every thrift store you've ever been to. I figured we'd use them on tables at the reception. I spent maybe $50-60 on them, but could have gone cheaper if I hadn't also been trying to find gold glass (much less available). The vases held much of the $150 worth of flowers my dear friends picked up at the Farmers Market on the day of the wedding.
Brad made the bouquet, and I had no idea what it would look like until I got to the church on the wedding day (see, this is where being a hippie is useful: whatever, man!). It was beautiful.
I had given my friends guidelines for flower-buying and placement, but didn't even know if I'd carry a bouquet until that day because I didn't know if any suitable flowers would be available. But they were, they were! My peoples worked on the flowers that morning, and voila, everyone had a bouquet or a boutonniere. I'm glad it worked out that way, because just look at Willa:
Her function was really to walk up the aisle with her brothers, which function was complicated by the addition of the bouquet, because she couldn't figure out how to hold both of their hands as they'd practiced while still holding the bouquet. But again: everything worked out fine. And she was cute as hell.
Can you tell our photographer friend is a product photographer?
About the venue. I researched a bunch of venues way back at the beginning of the year, and then the Brit just suggested we use the Unitarian church of my church gig fame. This floored me a bit because he is so not churchy, and though the place is not itself particularly churchy it's still recognizably a church, if that makes any sense. I need to stop typing "church" because it's starting to look weird. Anyway, that's what we did. It was the best deal, it felt very comfortable and familiar to me, and it was nice and spiritual. Best of all, the reception hall was directly adjacent to the sanctuary. So handy! There is also a courtyard and fountain connected to the hall, which was great since it was 80 degrees and lovely outside. (I choked a little when I typed that because today [i.e. Monday, when I started writing this], 3 weeks later, it's been snowing all fucking day.) A lot of the kids ended up soaking themselves in that fountain, to which I say huzzah. Had I known that would happen, I would've advised them to bring a change of clothing.
We had a dessert buffet. I HIGHLY RECOMMEND DESSERT BUFFET. If your friends are trusted makers of dessert, just ask them to make something. Molly, who was helping me with lots of the details and day-of wrangling, cheated and ordered cupcakes, which was awesome and also highly recommended. Then I assigned someone to set it up:
The only real irony here is that I'd been off sugar for about a month prior to the wedding (in pursuit of, you know, balance) and had no craving for any of it at that point. I did manage to put down a bunch of cupcakes the next day, though.
This post is getting ridiculous, so I'll wrap up by telling you about the dress. After exhausting all possibilities, about 3 weeks before the wedding I ended up in the teen girl section at Bloomingdales, looking at BCBG's young, cheap brand, BCBGeneration, and there it was. I didn't have a hallelujah moment or anything like that, but I thought hmm, that's interesting, I'll try it on. On the hanger, it didn't look like much, but I loved the color (not at all a color I'd been considering) and style when I had it on. However, the dress runs ludicrously small and there were no sizes left, so I had the salesperson call all the Bloomingdaleses in the land to try to find a 10. To make a long story short, this dress was for sale at no Bloomingdales and nowhere on the entire innertubes, and even after I found it at a Macy's here, there were no 10s to be had at any Macy's store anywhere. So I bought it too big and my mama sewed it up for me. Happy ending.
Also? The dress is machine washable. And it was $71. Actually I think I used a coupon, so it was less.
The jewels all came from Macy's too, except for the one that came from ICING by Claire's; so much for handmade and unique. The scarfy thing is likewise mass-retailer swag. Shoes are these:
I actually bought them for Em as her attendant gift, and then they arrived and I was like "sorry. Have these instead."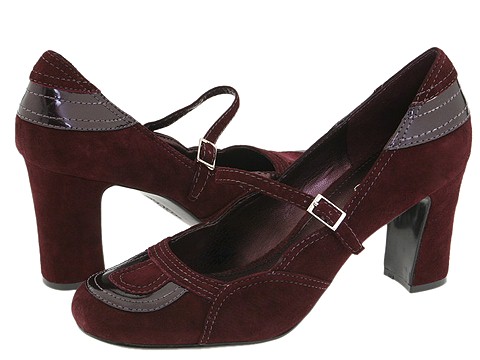 They were one of the pairs I was considering for myself.
Really now, I am going to wrap this post up. I biked to work today even though it's super cold, picked up the heaviest CSA share ever (all squash, all the time), and now have to ride home with like 30 pounds of vegetables wedged into my basket. And it will be cold. But I will be wearing my ninja balaclava along with a sweaterdress, so I should manage okay. Did I miss describing something? Ask away in the comments.
Oh yeah: the
pictures are online.
ETA: The other thing I really, really should have said is that IF YOU HAVE AWESOME FRIENDS plus all the other things I mentioned in the first few paragraphs, THEN you can get everything done in 2 months. The reception (and its cleanup) would not have happened without my friends.